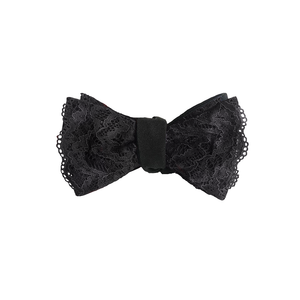 Made from the same lace as the lingerie set, this Duchess Lace Bow Tie in Black Sand is sure to impress with its beautiful Italian lace, scalloped edges, and silk dupioni backing. In a sea of silk and cotton bow ties dare to be different and show that you're a details person!
Pair this with the Duchess lingerie set to complete the secret!
Product Details:
-Made in New York
-Italian Lace
-Self Tie Bow Tie
-Adjustable neck 13 3/4"-18"
Lace:
88% Polyamide
12% Elastane